Gravio consists of the following application modules:
Gravio Studio to view, edit and configure the infrastructure.
Gravio Server Services, to retrieve the information and run Actions.
Gravio Cloud, to store configurations and user settings.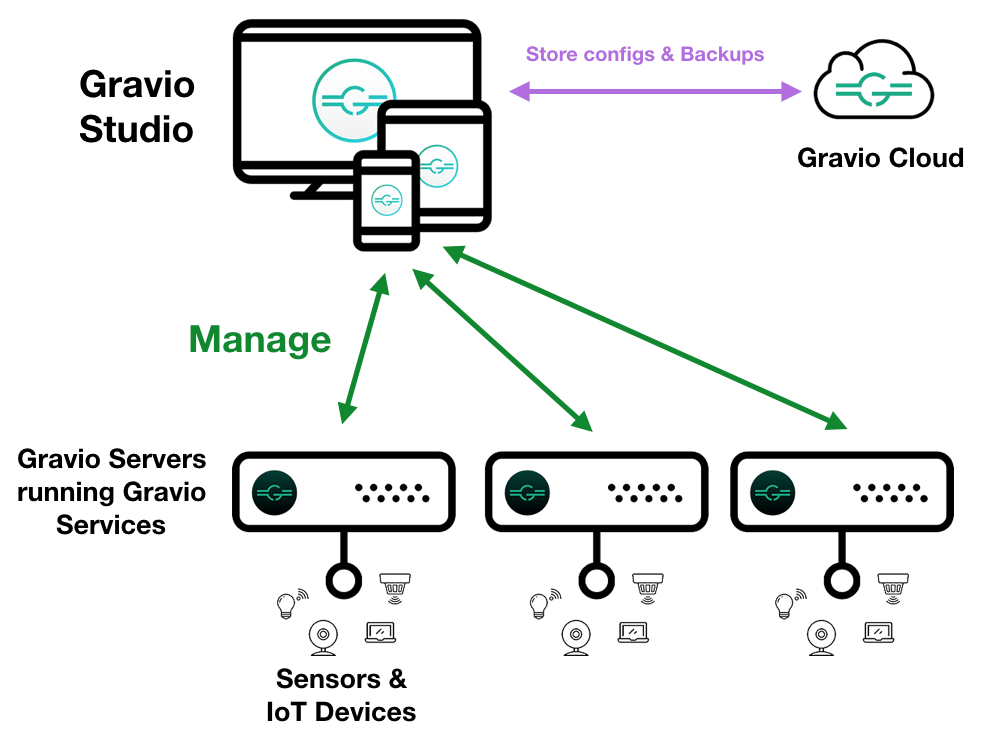 Gravio Studio (GS)
Gravio Studio, the user friendly editor available on Windows, Mac, iPad and iPhone, to configure, create and manage your IoT network.
Use Gravio Studio to:

The setup of physical sensor devices including the mapping of where they are located within a physical space.
The management of the sensors, monitoring and maintenance.
To create, configure and maintain Actions that are being triggered by the Sensor networks.
Data viewing for raw sensor data.


Gravio Server Services (
GSS

)

We call "Gravio Server Services" describe the server modules run by Gravio, which currently consists of 3 background services. The always-on edge computing server ensures connectivity. It runs on Windows, Mac and Linux.
Gravio Cloud (GC)
Each user of Gravio has access to his or her Gravio Cloud account. Gravio Cloud contains configurations, user information, and settings for easier deployment across edge networks. It also hosts your configuration backups. The cloud is operated and hosted by ASTERIA Corporation.
Feedback
Thanks for your feedback.